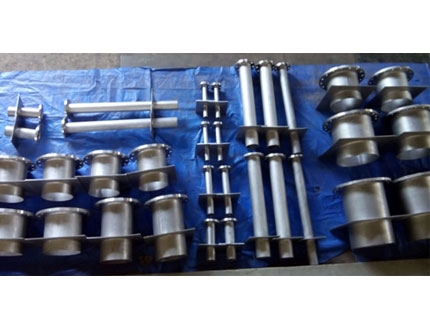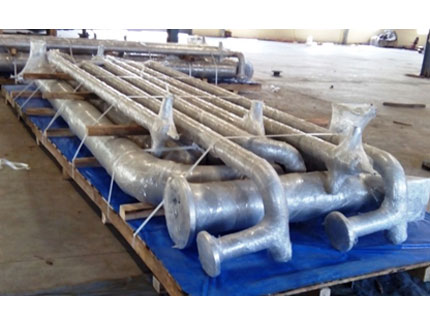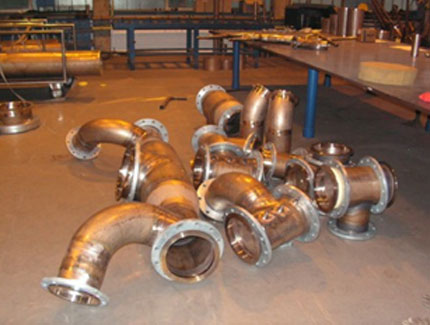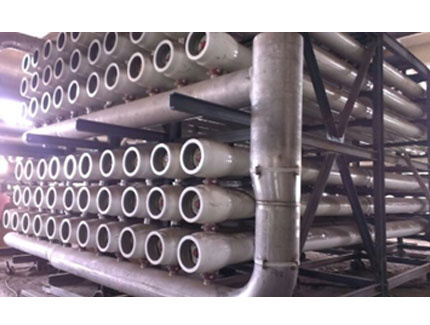 Piping Spool Fabrication
Our fabrication facilities produce pipe spools, headers, manifolds, and skid-mounted piping and equipment modules that are utilized in a diverse range of industries, including power generation, refineries, water treatment, renewable fuels, and manufacturing facilities. We also provides custom metal fabrication to support both internal field construction projects and outside customer requirements. In addition to hoppers, tanks, silos, and pressure vessels, we fabricate pipe supports, racks, saddles, platforms, walkways, trays, troughs, chutes, crane booms, and a wide variety of miscellaneous welded steel assemblies.We compliment this with industry-best fitters, welders, pipe fabricators and inspectors while maintaining a culture of respect for people and continuous improvement.
All spools start with a unique serial number. This ensures that all drawings, material, man-hours and processes are tracked and maintained for the customer.
Why pipe spools are pre-fabricated?
Shop Pre-Fabrication of pipe spools is a proven means for reducing field installation costs while providing the highest of quality in the products fabricated.
Pipe spools are often flanged to facilitate the connection to other spools. The fabrication of these spools is normally performed by specialist fabrication companies which are equipped with the required infrastructure.
The specialist fabricators work under defined set of quality management criteria to ensure the accuracy of fabrication in order to achieve the roper fit at site and to maintain the required technical parameters defined by the client.
Cost Saving in pre-fabrication, inspection and testing
Quality of the work is easier to manage & maintain in a controlled environment. High accuracies on specified tolerances will avoid rework at site.
Weather independent fabrication will minimize production delays.
Prefabricated Spools are the perfect answer to severe skill & labor shortage. Users do not have to mobilize significant work force for fabrication of spools on site.
Manufacturing in mass production, will result in lower manufacturing costs compared with site fabrication.
Prefabricated Spools will take lesser fabrication / assembly time, thereby avoiding time & cost overruns.
Prefabricated Spools will entail no or little investments in fabrication & testing equipments by users. Radiography, PMI, MPI, Ultrasonic tests, Hydro tests etc. can be performed better & effectively in controlled environments.
Prefabricated Spools will be serviced under the strict vigilance of Third Party Inspection Agencies, ensuring 100% adherence to required quality standards.
Better control on welding parameters in controlled environments resulting in lesser probability of rework at site.
Weld less Induction Bends (as permitted by the client) would entail complete avoiding of welding pipe sections using SR elbows, thereby bringing in significant cost savings in welding, radiography of welding joints & material requirements.
Lesser dependency on power availability, avoiding unnecessary time delays.
Improved safety in better manufacturing conditions than on site.
Fabricating spools off site means less slag, abrasive dust, smoke & other contaminants which are unacceptable in highly hygienic food processing & other industries.
| Materials | Industry Standards | Industries Served |
| --- | --- | --- |
| | | Chemical |
| | | Refinery |
| Stainless Steel | | Food |
| 300 Series: 304/304L, 316/316L, 317/317L, 304H, 309S, 310S, 347 | | Sanitary Applications |
| Duplex & Super Duplex : 2205, 2507 | ASME | Mining |
| Nickel Alloys | ANSI | Wastewater Treatment |
| Hastelloy®: C-276, C-22®, C-2000®, B, B-2, B-3®, G, G-3, G-30®, G-35® | | Coatings |
| | | Specialty Chemical |
| | | Adhesives and Sealants |
| | | Cosmetic |