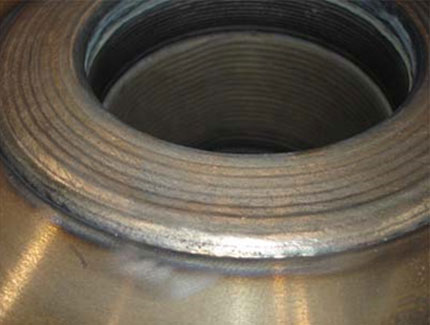 Weld Overlay
We have the facilities for weld overlay of valve parts like balls, seat ring etc and Tube sheets used in Oil & Gas Industries.
Manual TIG & SMAW Welding technique is used for weld overlay of various exotic material like Inconel 625, inconel 825, Stalite, SS 316L, SS317L, Duplex and Super Duplex on parent materail as Carbon Steel Grades.
We have special types of rotator & Fixures for such weld overlay. In NDT Testing Weld overlay is DP Tested at each interval of welding layer followed by chemical ETsting by means of XRF machine to control the desired weld overlay material chemistry. Finally the job is machines to desired thickness and same NDT is followed.